Here are additional resources worksheets and videos to assist children to learn the writing shapes including a guide on how to use the program as well as a synopsis of learning opportunities in the RTW stories.
Enjoy the video story of Hartley's Name to learn correct use of uppercase letters and reinformce concepts for writing from left to right and top to bottom.
The songs My Name is Hartley and Let's Get Ready to Write teach key writing concepts
Large shapes pages can be cut out and laminated then used with a pin board or velco together to build letters and numbers.
Play the shapes dominoes to skills at recognising and matching the shapes. Print the pages, cut the dominoes out and then laminte them for repeated play.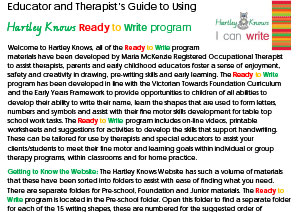 Guide to Ready to Write Program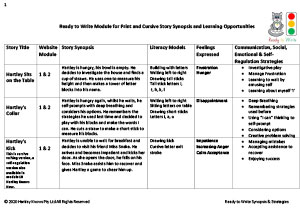 Hartley's Name RTW activities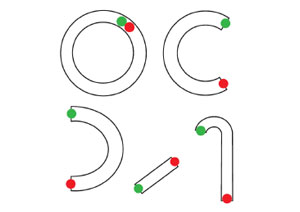 Members Only Access
We're sorry, you must be a registered subscriber with allocated permissions to see the content on this page.
To become a registered subscriber is easy, visit the online shop in the menu above, and select the type of subscription you require.
Once the subscription is paid in full, and providing you have selected the correct subscription type, you will then be provided with access to the module you are currently trying to view.
If you are not sure if Hartley Knows is right for you please contact us by email to arrange a short demonstration prior to making your decision.