As Sassoon font used in UK phonics programs has a mixture of cursive and print style letters if you are teaching with this font you will need a professional subscription and access to both the I can write cursive letters and the I can print letter modules.
Tips for writing with Sassoon and when to use each module of Hartley Knows for Sassoon letters is provided on the information pages below.
Videos and worksheets for Sassoon f, m, n will be added once completed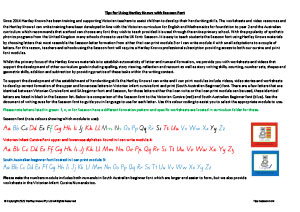 Tips for using Sassoon font
Lowercase writing cues for Sassoon
Members Only Access
We're sorry, you must be a registered subscriber with allocated permissions to see the content on this page.
To become a registered subscriber is easy, visit the online shop in the menu above, and select the type of subscription you require.
Once the subscription is paid in full, and providing you have selected the correct subscription type, you will then be provided with access to the module you are currently trying to view.
If you are not sure if Hartley Knows is right for you please contact us by email to arrange a short demonstration prior to making your decision.