Recount these stories and make Xander and Panda character puppets by colouring the worksheet and taping a craft stick or straw to hold.
A Land in the Sand– uses and rhyming words and has worksheets to complete for designing your own story setting and for developing character profiles
Digging in the Dirt– uses irt/urt rhyming words and has a workbook to complete filling in missing words, tracing and colouring for fine motor skills
Digging in the Rocks– uses ock/ox rhyming words encourages students to create their own story ending 'what is in the treasure box?' use the workbook to fill in missing words, practice colour and trace and also complete an ending to this story.
The Magic Band– inspires the imagination of creating your own magic with a wand, what would your wand do?
Vic colour A Land in the Sand
Vic Xander and Panda Digging in the Rocks
Vic Xander and Panda the Magic Band
Land in Sand Vic worksheet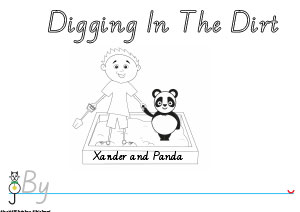 Digging in the Dirt workbook
Digging in the Rocks workbook
Characters in Sand Vic worksheet
Members Only Access
We're sorry, you must be a registered subscriber with allocated permissions to see the content on this page.
To become a registered subscriber is easy, visit the online shop in the menu above, and select the type of subscription you require.
Once the subscription is paid in full, and providing you have selected the correct subscription type, you will then be provided with access to the module you are currently trying to view.
If you are not sure if Hartley Knows is right for you please contact us by email to arrange a short demonstration prior to making your decision.