Hartley Knows How Self-Regulation
This self-paced learning package includes 6 1/2 hours of video content and comprehensive powerpoint slide notes focused on the development of self-regulation skills in children from babies to adolescence. The training includes information regarding sensory, cognitive behavioural and physiological approaches that utilise current brain research and a variety of intervention practices to inform particpants of a wide array of strategies. This presentation teaches participants to use the Hartley Knows How self-regulation stories for children from pre-school to year 4 to support the development of positive communication and self-regulation. Information presented is inline with the VEYLDF and Victorian Curriculum.
To register for this training please go to the website shop. After registering the video access codes and powerpoint notes will be emailed to you once payment has been finalised.
Information regarding the training and a synopsis of the self-regulation stories is provided below.
Hartley Knows How Self-Regulation skills training info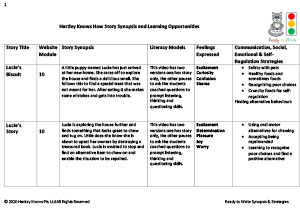 Hartley Knows How Story Synopsis
Members Only Access
We're sorry, you must be a registered subscriber with allocated permissions to see the content on this page.
To become a registered subscriber is easy, visit the online shop in the menu above, and select the type of subscription you require.
Once the subscription is paid in full, and providing you have selected the correct subscription type, you will then be provided with access to the module you are currently trying to view.
If you are not sure if Hartley Knows is right for you please contact us by email to arrange a short demonstration prior to making your decision.